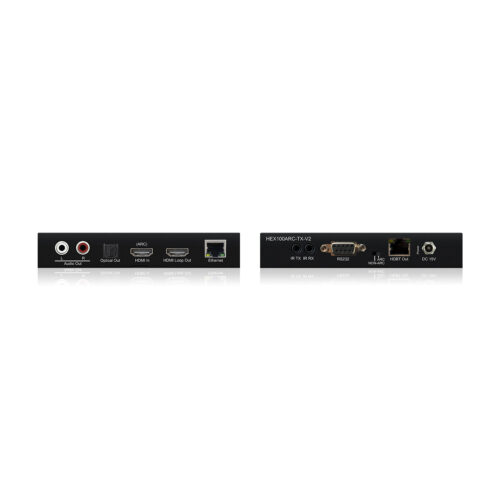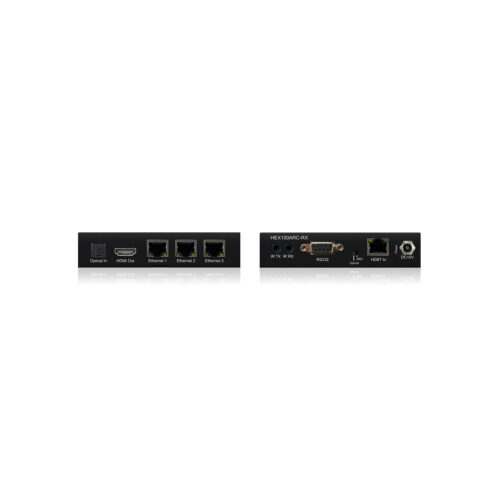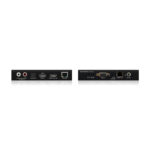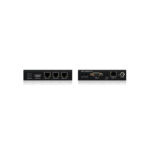 HEX100ARC-KIT-V2
Slimline HDBaseT™ Extender Set – 70m (4K up to 40m), Bi-directional IR and Bi-directional PoC
Preço: Sob Consulta
Descrição
Description
Our Platinum Range of HDBaseT™ products offer the very best in performance and flexibility.
The HEX100ARC-KIT-V2 extender set is an industry leading 4K HDBaseT solution delivering HDMI with HDCP 2.2 support, Bi-directional IR, RS-232 and PoC up to lengths of 100m over a single CAT cable.
The HEX100ARC-KIT-V2 also provides enhanced features including HDMI loop-out on the Transmitter, ARC via HDMI or Optical (S/PDIF) and an integrated 3-port Ethernet switch.
Box Contents
1 x HEX100ARC-V2-TX
1 x HEX100ARC-RX
1 x 15V/2A DC Power Supply
1 x IRR Receiver
1 x IR Emitter
2 x Mounting Brackets
1 x User Manual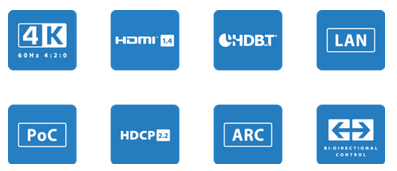 Key Features
Advanced HDBaseT™ technology offering uncompressed video and audio with zero latency

Extends HDMI up to a distance of 100m over single CAT cable at 1080p

Supports 4K UHD video up to 70m (3840 x 2160 @30Hz 4:4:4, 4096 x 2160 @24Hz 4:4:4, and 4K @60Hz 4:2:0)

Supports all industry standard video resolutions including VGA-WUXGA and 480i-4K

Supports 3D signal display

Supports CEC bypass (Consumer Electronics Control)

Features 1 x HDMI loop out for integrating local displays or cascading to further signal distribution devices

Supports ARC (Audio Return Channel) from display via HDMI or Optical digital inputs (to 90m max distance*)

Supports audio return to HDMI, Optical digital and analogue L/R audio outputs (DAC PCM only)

Supports all known HDMI audio formats including Dolby TrueHD, Dolby Atmos, Dolby Digital Plus and DTS-HD Master Audio transmission

Integrated 3-port 10/100BaseT Ethernet switch (LAN Serving)

Bi-directional RS-232 pass through

Bi-directional IR from all input and output locations

Supplied with Blustream IR receiver and emitter

Bi-directional PoC (Power over Cable) to power extenders from either transmitter or receiver end

HDCP 2.2 support

* Where ARC is required over longer distances, it is highly recommended that shielded CAT cable be used
Specifications
HEX100ARC-TX-V2:
Video Input Connectors: 1 x HDMI Type A, female

Video Output Connectors: 1 x HDBaseT RJ45 connector, 1 x HDMI Type A, female

Audio Output Connectors: 2 x RCA (L/R), 1x Optical (SPDIF)

Ethernet Port: 1 x RJ45 connector

RS-232 Serial Port: 1 x DB-9 female

IR Input Ports: 1 x 3.5mm stereo jack

IR Output Ports: 1 x 3.5mm mono jack

2 x Mounting Bracket

Ind. Unit Dimensions (W x D x H): 143mm x 135mm x 25mm (TX), without connections

Ind. Unit Dimensions (W x D x H): 143mm x 140mm x 25mm (TX), with connections

HEX100ARC-RX:

Video Input Connectors: 1 x HDBaseT RJ45 connector,

Video Output Connectors: 1 x HDMI Type A, female

Audio Input Connectors: 1 x Optical (SPDIF)

Ethernet Port: 3 x RJ-45 connector

RS-232 Serial Port: 1 x DB-9 female

IR Input Ports: 1 x 3.5mm stereo jack

IR Output Ports: 1 x 3.5mm mono jack

Mounting Kit Included

Ind. Unit Dimensions (W x D x H): 114mm x 135mm x 24mm (RX), without connections

Ind. Unit Dimensions (W x D x H): 114mm x 139mm x 24mm (RX), with connections

Box Dimensions (W x D x H): 340mm x 285mm x 60mm

Shipping Weight (Kit): 0.9kg

Operating Temperature: 32°F to 104°F (0°C to 40°C)

Storage Temperature: -4°F to 140°F (-20°C to 60°C)

Power Supply: 1 x 15V/2A DC, screw type connector