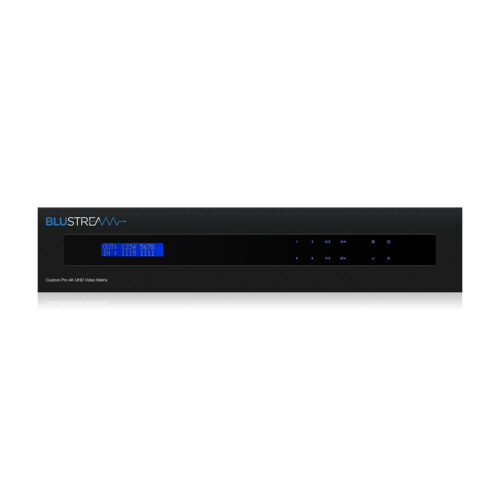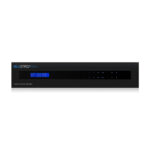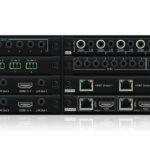 PRO88HBT100CS
Custom Pro 8×8 HDBaseT™ CSC Matrix (4K 60Hz 4:4:4 up to 70m) – Supports 4K HDR, IP & RS-232 Control, PoC, 2-Way IR, 4 x Simultaneous Outputs and Audio Breakout with Volume Control
Preço: Sob Consulta
Descrição
Description
Our 100m Custom Pro 8×8 HDBaseT™ CSC Matrix offers unprecedented 4K HDR performance for the custom installation market.
The PRO88HBT100CS is a HDMI 2.0 4K 60Hz 4:4:4 HDCP 2.2 Matrix utilising CSC technology to deliver HDMI, Bi-directional IR, PoC up to lengths of 100m over a single CAT cable (4K HDR up to 70m) with independent down-scaling of 4K video inputs on the CSC HDBaseT™ outputs to allow displays only capable of supporting lower video resolutions to receive 4K video while still showing maximum original 4K UHD resolution on the higher-definition displays.
The Matrix also provides advanced features including 4 x simultaneous HDMI outputs, audio breakout with line level pre amp volume control and a web browser interface module for control and configuration of the matrix.

Key Features
HDBaseT™ technology offering distribution of video and audio over a single CAT cable

Advanced Colour Space Conversion (CSC) supports HDMI2.0 18Gbps specification including HDR

Features 8 x HDMI inputs which can be independently routed to 8 x HDBaseT™ outputs

Supports 4K 60Hz 4:4:4 UHD video up to 70m

Independent down-scaling of resolutions up to 4K 60Hz 4:4:4 video input to the following formats:

– 1080p 60Hz (for screens that do not support 4K)

– 4K 60Hz 4:2:0 (for screens that do not support full 4K 60Hz 4:4:4)

Supports 4K with HDR

Extends HDMI 1080p video up to 100m

4 x Simultaneous HDMI Outputs

Supports all industry standard video resolutions including VGA-WUXGA and 480i-4K HDR

Supports all known digital HDMI audio formats including Dolby TrueHD, Atmos; DTS-HD Master Audio and DTS:X transmissions

8 x simultaneous coaxial digital and variable line level analogue L/R audio outputs

Analogue audio input can be embedded onto any HDMI input

Web interface module for control and configuration of matrix

Supports bi-directional IR / RS-232

Supplied with Blustream IR receivers and emitters

Control via front panel, IR, RS-232 and TCP/IP

Supports PoC (Power over Cable) to power compatible HDBaseT™ receivers

3rd Party drivers available for major control brands

2U Design for 19″ rack mount integration – Mounting kit included

Advanced EDID management

HDCP 2.2 compliant

To be used with the HEX100CS-RX receivers
Specifications
Video Input Connectors: 8 x HDMI Type A, 19-pin, female

Video Output Connectors: 8 x HDBaseT™ RJ45 connector, 4 x HDMI Type A, 19-pin, female

Audio Input Connectors: 8 x 3.5mm stereo jack (L/R)

TCP/IP Control: RJ45, female

Ethernet / Network: RJ45, female

IR Input Ports: 9 x 3.5mm stereo jack

RS-232 Serial Port: DB-9, female

Rack Mountable: 2U rack height, rack ears included

Casing Dimensions (W x H x D): 440mm x 87mm x 282m without feet

Dimensions Including Connections (W x H x D): 440mm x 94mm x 288mm with feet

Shipping Weight: 5kg

Operating Temperature: 32°F to 104°F (0°C to 40°C)

Storage Temperature: -4°F to 140°F (-20°C to 60°C)

Power Supply: 24V/8A DC
Colour Space Conversion (CSC) Technology in HDBaseT™
Due to the data rate of HDBaseT™ technology being capped at 10.2Gbps, it is unable to pass the latest native 4K UHD resolutions of 4K 60Hz 4:4:4. There is now a requirement to integrate video resolutions with data speeds up to 18Gbps across a multi-zone AV environment. Blustream have implemented CSC (Colour Space Conversion) technology into our latest products to ensure 4K HDR signals can now be supported over the limited infrastructure of HDBaseT™. Colour Space Conversion reduces the data rate of the HDMI signal by converting the colour space from 4:4:4 or 4:2:2 to a lower format. Within Colour Space Conversion technology the native resolution and frame rate remain constant from end to end. The only part of the signal that is converted during transmission is the colour. Blustream CSC products do not support HDR10+ or the dynamic variation of Dolby Vision due to the way these specific variations of dynamic HDR (dHDR) are encoded. These codecs transmit repeated metadata packets throughout the transmission of any media making it impossible at this stage to convert in the same way using CSC technology.